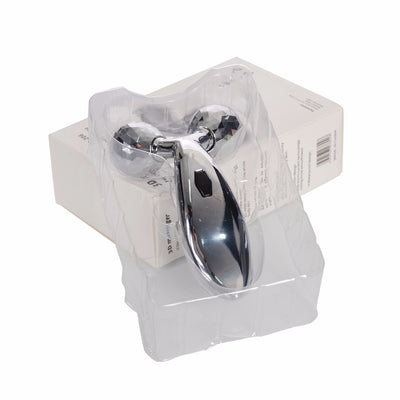 Feature:

1, please gently rolling massage the skin
2, please do not force the rolling massage, or in the same place repeatedly rolling massage, if use it will make your skin feel pain
When 3, began to use please follow three minutes each time, three times a day the frequency of use, and then adjust (increase or decrease) according to the state of the skin massage time
4, evenly massage parts, can also be used directly after makeup, but with clear water or warm water after using carefully cleaned properly kept
Y type massage stick to note:
1, in use process, if appear skin ache or other abnormal phenomenon, please immediately stop using Y type massage stick and examined a medical professional
2, roller if stained with makeup or leather fat, may be because the oxidation and brown spots, if appear the phenomenon, please use a toothbrush with a small amount of cleanser or toothpaste powder brush gently wash out
3, please pay attention to the use, in case of Y type massage stick with hot water or hot air from drier and cause deformation or melt
4, please pay attention to use Y type massage stick, lead to damage to or loss of roller when the fall to the ground in case 5, please pay attention to use Y type massage stick, in case of excessive force press foot handle part, cause the handle is broken
6, Y type massage stick cracks or plating fall off, or use words may cause malfunctioning of the roller are sore skin
7, please pay attention to the use, rolling can damage cloth on the clothes
 
Cautions before usage
1. Take off the accessories such as necklace, earrings.
2. Piled up hair or firm them with hair band, to avoid hair entaglement, and the rolling will be more smooth. Use the hairpin for short hair.
3. Pay attention to the hair around the ears to avoid entanglement.
4. For dry or sensitive skin, please paint some lotion before usage.

We custom fill your orders within 48 hours. Since we ship direct from the manufacturer it can take up to 7 to 14 days to arrive (international orders may take from 21 to at most 60 days). But once you get your stuff you will know it was worth the wait.
3D Roller Massager

We're so sure that you will love our products here at My Tv Treasures and offer our 100% satisfaction guarantee. If you have a problem with your order and no one else can help, send us an email over to contact@mytvtreasures.com and we'll do OUR My Tv Treasures All GUARANTEE BEST to make things right for you.